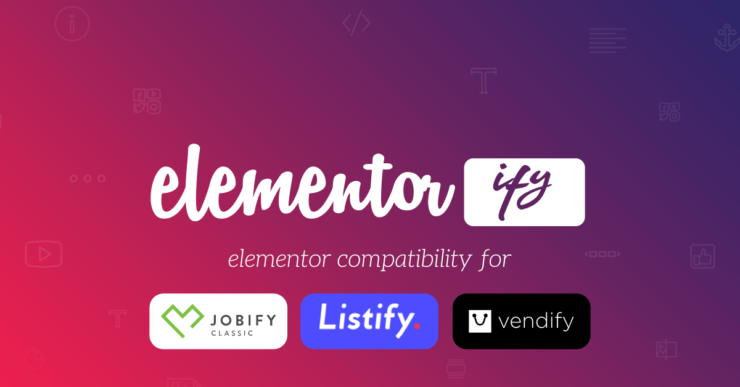 Introducing Elementify, the compatibility of all Astoundify products with Elementor.
We know we do not blog a lot but let us assure you that we work around the clock to have things done!
Today, we are happy to announce that we have worked on a new plugin for our themes, which is called " Elementify "!
Elementify will allow all of our themes to be compatible with Elementor but also allow you to build full pages, just with some drag and drop.
As we do care for our users to get the maximum compatibility, you can create now, you are now able to create:
HomePage:
You can now design your homepage, by using any of the elements we provide! Customize your homepage without the need of any extra code! We would love to see what you guys prepare, let us know when possible!
Listing Page:
Same as the homepages, you can now design unique pages. As by using the Elementor capabilities, you can create unique customized layouts, even different views per Listing Category or Location!
Dashboard Page:
We could not leave Dashboard outside of those processes. We know that you want your users to have as specific to your site and branding design, so we have also integrated the dashboard to all that process.
Why we integrated with Elementor?
We listen to our users and the top voted feature, was the option for you to be able to modify our templates and design different demos! We listen and we introduced that to you!
What is next?
New Demos! We are already planning different single pages that you will be able to import to your WordPress Installation and use those demos for creating web sites for you or your clients. We are working on a really big new library, that we hope will meet all of your needs.
Are you an Elementor Lover?
Do you love Elementor? Do you also use and love any of our Themes? We want you to help us grow! We are opening the possibilities for our users to participate in the demo library we are creating! The steps are easy!

1. Create a Demo for the following pages:
– HomePage
– Category Page
– Dashboard Page
– Single Listing or Job Profile Page
2. Create a Screenshot of all of those pages
3. Send the Exported JSON format with the Screenshots, a link of your own web site and some description text of your self.

The top 5 entries that we will decide to use, will receive a $50 either amazon gift card or instant payment to their PayPal account.
Are we missing something?
As we always if you think that we are missing something from functionality, you notice a bug or you believe we should add more things into the plugin, please contact us via our contact page, we will be more than happy to help you!
Do you want to see those two themes?
Please check them out!