If you ever come across an aesthetically pleasing job board website, and wondered how it is built, this is the right place to scroll through! Even if you feel you can do better than all those job boards, we have a list of some of the profound WordPress job board themes and plugins below. By having a job board, people can search for jobs and companies can post their hiring listings. It is also a popular online business idea since site owners can make money by accepting payments for job postings.
Fortunately, creating an outstanding job board WordPress website is a lot easier than you might think when you have knowledge of the best WordPress job board themes and plugins. So, let's get your job board website up and running in no time only with the help of feature-rich themes and plugins listed below!
Best WordPress Job Board Themes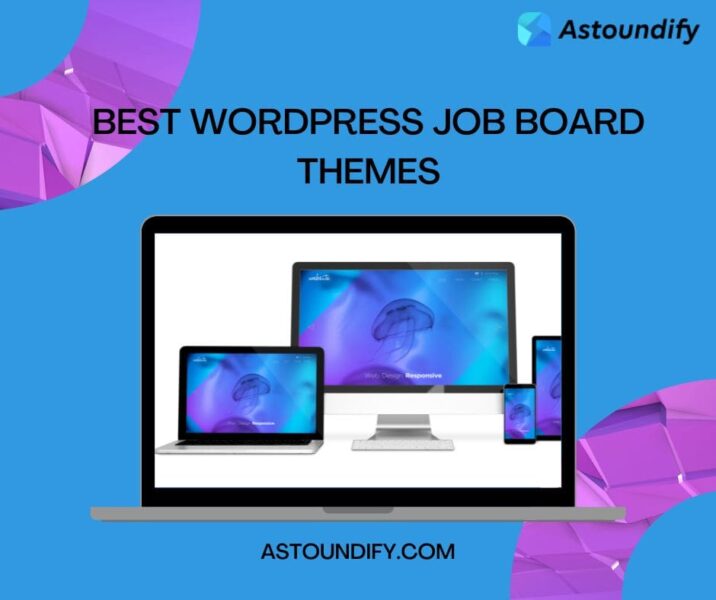 After reviewing the functionality of each option, we've compiled a list of the 4 best WordPress job board themes below. Skim further and make an informed decision on what could better serve you in different scenarios!
Jobify
Best for: Customization
Pricing: $69
To start with, let's introduce you to our own Jobify WordPress theme famous for its professionalism, high-end customization, and quick installation! It is a modern, design-rich customizable WordPress theme where you will get all you need to set up a job board website in any niche. 
Since it is extremely user-friendly, you won't need to tamper with code anymore. Moreover, you can expect its 100% mobile-friendliness with the needed flexibility to search for jobs on the go and interact with other functions seamlessly. 
It packs a broad range of features from awesome all-around plugin compatibility to multiple demos for your ease. You may find it the first fully-integrated WordPress theme with the WP Job Manager plugin. 
Moreover, we have our own compatible add-ons with the Jobify theme and WP Job Manager plugin available at budget-friendly prices to explore now.
Even if you're looking to create a new revenue source or looking to bring in more subscribers, Jobify is an ideal choice. We're not the only ones saying this, but 14,000+ users have given us positive feedback regarding Jobify's performance. 
WorkScout
Best for: Design
Pricing: $79
WorkScout is another recommendation for a WordPress job board theme if you're not looking for all-around optimization with different plugins. It is a good choice when you're looking for minimalist features, such as minimal customization, flexible user experience, and more.
With WorkScout, you have to purchase a separate license for WP Job Manager Core Add-Ons whereas Jobify is giving you the option to enhance functionality with our own compatible add-ons.
For instance, it's more economical to buy our Listing Payments for WP Job Manager at $29/year with Jobify than buying WC Paid Listings which is a core add-on for WP Job Manager. 
JobCareer
Best for: Simplicity
Pricing: $69
We'd like to keep JobCareer by Chimpstudio as our third-best pick if you're looking to make a simple, money-making job script platform. This theme also comes with helpful plugin integrations, and a user-friendly intuitive setup and design. 
Even though JobCareer offers you a lot of premium plugins for free, they are less in quantity. Consequently, you won't be able to perform better functions or enjoy all-around compatibility with the job board WordPress plugins as Jobify is already offering you the full-fledged WP Job Manager integration.
Recruitment Agency
Best for: Customer Support
Pricing: $64
Here's another responsive, quick-loading, and adaptable WordPress theme built on Bootstrap known as Recruitment Agency. It is appropriate for organizations and people who want to expose their job profiles. 
However, we'd advise you to think twice as this theme is not updated since 2018. This means that you might face a lot of bugs, issues or performance deviations, or plugin incompatibility with the Recruitment Agency. Also, the theme is not up to proper customization ability as per our review analysis of its recent users. 
Features & Pricing Comparison Table
| | | | | |
| --- | --- | --- | --- | --- |
| Themes | Jobify | WorkScout | JobCareer | Recruitment Agency |
| Features | | | | |
| Last Updated | 2023 | 2023 | 2023 | 2018 |
| Ratings  | 4.24 | 4.83 | 4.71 | 3.75 |
| Availability of WP Job Manager Add-On Bundle | Yes | No | No | No |
| Pricing | $69 | $79 | $69 | $64 |
Best WordPress Job Board Plugins
Your website might enjoy additional functionality by using plugins. For instance, you'll need a plugin to handle it if you want to sell goods or accept donations on your website. Similarly, plugins for job board websites are also needed to perform functions such as uploading resumes, accepting payments for job listings by employers or employees, and so on.
Skim below to know some of the best WordPress job board plugins!
WP Job Manager
Best for: User-friendliness
Pricing: Free except premium add-ons
WP Job Manager is much needed an extremely user-friendly WordPress job board plugin by Automattic. It enables recruiters to post their job postings and register on your website. Job seekers can manage their listings from a straightforward dashboard as well.
It also has premium add-ons to manage resumes, send email alerts, monetize your job board, and more. With WP Job Manager, almost everything feels effortless where you can easily manage your job listings from the WordPress dashboard, or where you have more user control over applications via a dashboard.
WP Job Openings
Best for: One-pager or short job board websites
Pricing: Free except premium add-ons
Another excellent freemium job board plugin is WP Job Openings. Developers can use a variety of features, including flexible filter options, two layouts for displaying job postings, and two filtering methods, to change the look and feel of your customized job board.
It works best to create and enhance your company's career page. However, it does combine all applications into one tab, which can be difficult if you're posting jobs from several companies. 
Simple Job Board
Best for: Shortcode-based development
Pricing: Free except premium add-ons
Simple Job Board is a WordPress job board plugin based on shortcodes. It allows you to create a system for a highly extensible online job board. For each job posting, you can develop a special application form with multiple-choice options, obligatory fields, and other features with this plugin.
However, it is not complete in itself. It offers various premium add-ons which you need to purchase separately if you're looking to build a comprehensive WordPress job board website. 
Best for: Building a flexible, customizable, and comprehensive job board WP website
Pricing: $10/mo (billed annually for 1 site)
Won't it be pocket-friendly when you get all the WP Job Manager add-ons in one bundle than buying separately? Yes, you heard it right! At Astoundify, we're committed to solving your problems by developing feature-rich yet budget-saver WordPress themes and plugins. 
Presenting to you our top-notch WP Job Manager Add-On Bundle at a pricing of $10/mo (billed annually for 1 site). This bundle saves you a lot of bucks with premium add-ons included such as contacts listings, company listings, job designers, auto job suggests, extended location, auto location, and more.
Conclusion
We hope this blog helped you find the best WordPress job board themes and plugins in 2023. As a tip, we'd advise you to always do comprehensive research on user reviews before selecting any WordPress theme and plugin so as to avoid further confusion. 
However, we've tried our best to ease your task of researching parts and presented you the list of the best ones only after analyzing their thorough review. We highly recommend you check our WP Job Manager Add-On Bundle which not only helps you build a comprehensive WordPress job board website but also saves you money.